Dimension :

43.18 cm

Weight :

0.2 kg

Material:

Brass
Sanai is one of the Nepali traditional musical instrument and a part of Panche Baja.
It is a type clarinet and made of a metal pipe which is bent towards the front with a couple of holes. The hole on the top is used to blow into.
Sanai is usually played during ceremonial occasions like marriage ceremonies,
processions
 and in temples although it is also played in concerts.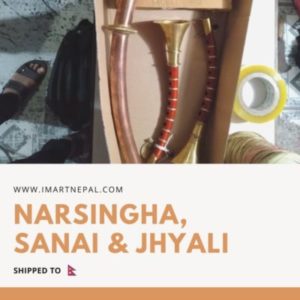 You should be logged in to add your reviews.
Secure Payments through PayPal and Stripe.
Delivered within 2-4 weeks, anywhere in the world.
Postage paid free returns within 30 days of delivery.
We take your privacy seriously.
---
Want to bulk order this product? If you want more than 5 items of this product, please request us a quote.
---