Pottery has a long history in Nepali culture. The oldest recorded finds in Lumbini date back at least 2600 years. The sizeable ceramic water pots can be found in almost every village in Nepal which are used to collect, store and transport water. These vessels also keep water cool. Clay goods are also essential to many Hindu and Buddhist religious ceremonies. During pujas, small ceramic cups are used to hold candles and butter lamps. Traditional Newari rice wine called aila is made using a special ceramic set-up crafted just for distilling rice or millet alcohol: several clay containers of various sizes are used in conjunction with a large ceramic vessel with holes punched in the bottom. Without this special holed vessel the creation of potent aila would not be possible.
The skills of Nepali potters have been passed on from generation to generation. Some entire families trace their heritage side by side with the occupation of pottery.The art of making clay pottery is as old as human civilization. This age-old tradition of making clay pottery still exists in our societies and still possesses strong socio-cultural values in our livelihood. Despite all influences of modernization and development, the potters of Kathmandu Valley still find their livelihood on their potter's wheels.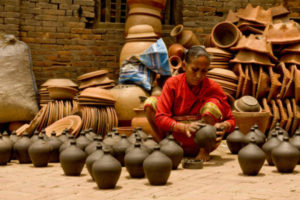 Despite the household use of pottery, it has a significant meaning to cultural and ritual affairs. From the birth ceremony to the death of people, clay pots are needed. On the fourth day of the birth of a child, "Makal" a hearth, "Pala" or "Palcha", a small bowl shape clay pot made to light the oil lamp made with cotton thread is used. On the death of a person, "Bhajan" also known as "Handi" in Nepali, "Bhega", a pot for curd, "Kalash" and "Ampacha", pots for holly water are used. Every ritual needs different pottery for different purposes. Without these clay pots, the Newar culture is not complete. Interestingly, for many ritual and religious purposes, the clay pots are painted by the"Chitrakars" the painters of Newar society, and worshiped in rituals, without which no ritual is complete. Ceramics and glazing are not the part of traditional clay art of Nepal. It was not been in use til the Ceramic Promotion Project started in Bhaktapur. Though they use a natural color coat to give a smooth red finish to their products. Most of the clay craft is in terracotta in red color.Bhaktapur is one of the many such destinations, famous among tourists, for the art, culture, and tradition it holds.Besides the delicately wood-crafted palace and ancient history, it also has traditional and local art to portray to the visitors. Pottery Square in Bhaktapur is the best place to take a stroll into the pottery art that has been passed from generation to generation by the local people of Bhaktapur.
When we pick souvenirs from gift shops, we go through a confusing decision of which to select among the beautifully crafted ones. Pottery Square is the place where you can see the different stages that the raw clay goes through to mold into a detailed structure. The major citizens of Bhaktapur are the local Newars. Pottery Square is a big yard where the pottery artists are busy with their own assigned work. You see the clay spinning in the wheel and the experienced hands gracefully shaping it, on the other side, you can see the ceramics basking in the sun, and children of the family carefully moving small pots that fit in their hands to the storage area. Then finally, when the craft is dry and molded, it is taken to be painted.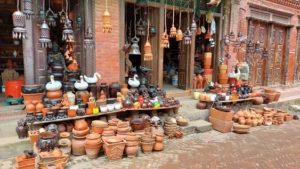 Two major temples, a solid-brick Vishnu temple, and the double-roofed jetha Ganesh may be seen in a very traditional fashion within the pottery square. A small hilltop on the northern side of the square is topped by a Ganesh shrine and a Shady Peepal tree. The men of Bhaktapur, like potters all around Nepal, use rudimentary techniques. The hefty antique wooden wheels have mostly been replaced with lighter-weighted truck tires that spin faster.Wet black clay cones are molded and smoothed into yogurt bowls, washbasins, enormous grain storage jars, and little oil lamps b skillful hands. The craftsmen have passed down this technique from generation to generation, and the majority still employ traditional methods  today.