Chadke Tilhari

(SKU : 400-2)
Dimension :

200 cm

Weight :

0.25 kg

Color:

Green

SKU:

400-2
Chadke tilhari is worn by Nepali married womens in an occasions or parties. Tilhari contains an golden ornament in it, which represents their beautiness along with their getup. It suits women custumes, Saree. It is usually long which comes upto their belly from their neck. It is worn like a side bag. It has very importance in Nepalese womens wardobe.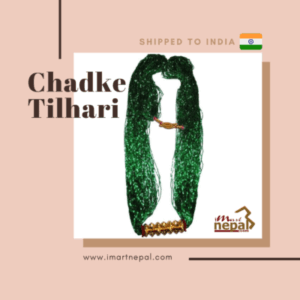 You should be logged in to add your reviews.
Secure Payments through PayPal and Stripe.
Delivered within 2-4 weeks, anywhere in the world.
Postage paid free returns within 30 days of delivery.
We take your privacy seriously.
---
Want to bulk order this product? If you want more than 5 items of this product, please request us a quote.
---